How To Be The "It Girl" Of Your Industry + Be Irresistible To Your Tribe! // STRATEGY, BRANDING, + WEB DESIGN BY XXOBRI.COM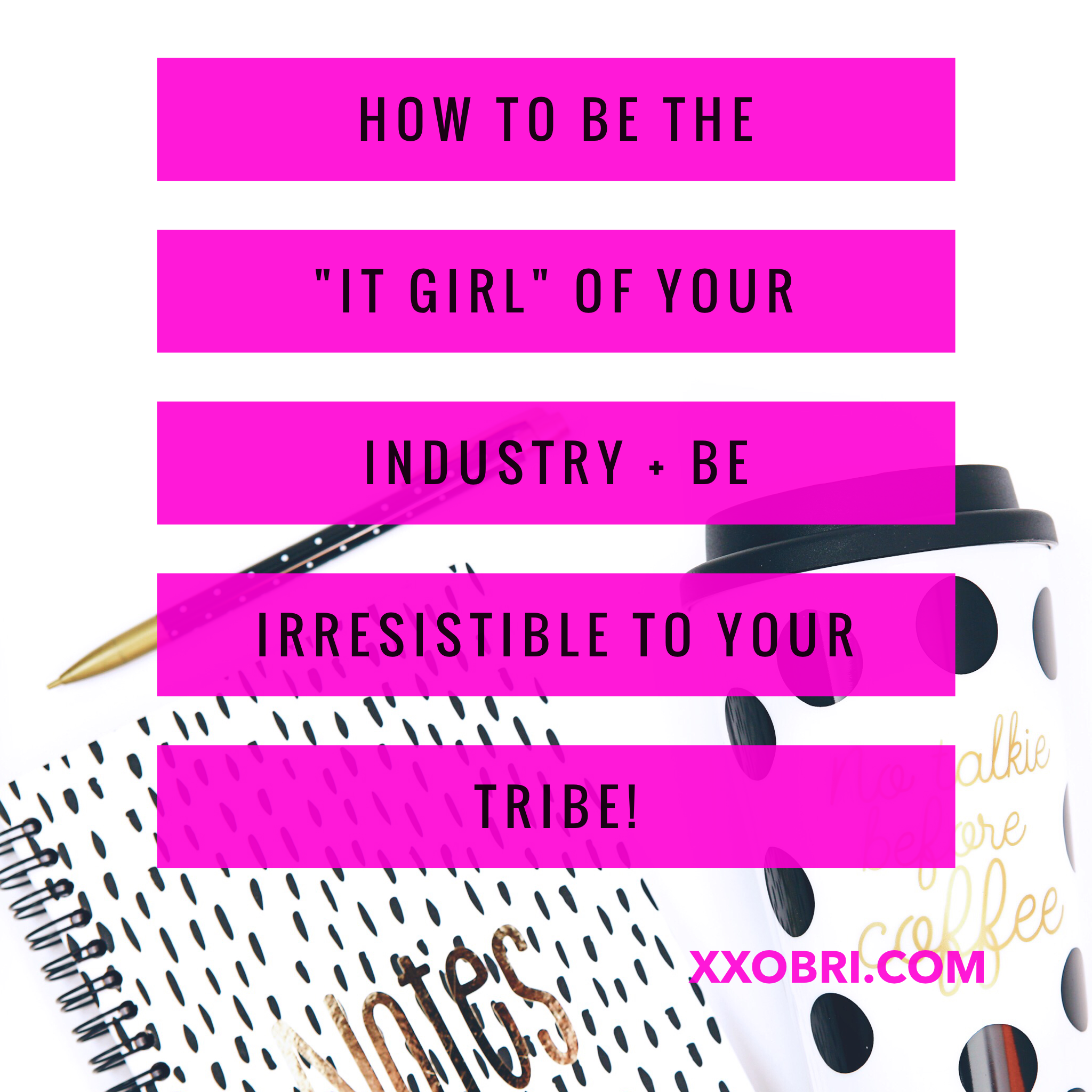 One of the best (and most powerful) parts of building an authentic brand is getting to attract your ideal tribe!
When you know who you are and what you offer, you'll find it easier to connect with potential clients/customers. You'll know how to attract them to you (versus chasing after them without having to resort to pushy sales tactics!)
I wanted to share a few essential elements to building YOUR authentic brand + becoming the "it girl" to your tribe! 💖👯
Know Yourself
Authentic branding starts with discovering who you are. When you build your personal brand, you can highlight your strengths while minimizing your weaknesses. This will help you feel less frustrated & save you energy because you'll know which projects (and customers/clients/team members) are a good fit for you!
Don't be afraid to say 'no' to the wrong projects or partnerships. An important part of authentic branding is only allowing projects and partnerships in your life that focus on your strengths & light you up! When new opportunities present themselves, pause to check in with your gut. Is this project exciting to you? Does it allow you to highlight your best qualities? Will it add more joy to your life? What value could it bring your portfolio/experience?
Discover Your Message
You have a message to share with this world, a unique way to make people's lives easier, more meaningful and more fun. It's okay if you're not quite sure what that message is yet. Most people don't at first! Start with what first comes to mind and gets you the most excited!
[[ Often, it takes the guidance of a business coach or a trusted mentor to help you discover your message. That's why you may want to consider working with a coach or mentor as you seek to define your personal brand.]]
Find Your Sweet Spot
Once you understand branding and know the message you'd like to share with your ideal clients, it's time to think about your sweet spot. This is the area where your clients' need help and where you shine the best!
You can communicate your sweet spot by sharing stories that show who are you are, as a person and a professional. For example, if you help moms get their pre-baby bodies back, then sharing your own weight loss story can be inspirational.
You want the stories that you share to connect + resonate with your ideal client so be sure to keep in mind their goals, fears, and frustrations. You could share a story about your own struggles and how you are working to or have overcome them. Examples like these can really help serve your tribe!
Creating a brand is not just about getting more likes + hits or creating more opportunities to market your business.
Another important reason to have a brand is so that you can bring your customers back and so that you can leverage the good experiences they've had with you in the past in order to sell to them again in future.
Ultimately, this means trying to develop what's known as 'brand loyalty' so that you get to a point where people aren't just fans of your products but of you as a BRAND.
So...how do you get to that point?
Be Consistent in Providing Quality
The first and most important consideration is that you need to be consistent in terms of what you're offering and the quality that you provide.
For example, if someone reads a blog post of yours and enjoys it, they need to feel confident that the next blog post they read on your site will be similar in tone and topic and will be similar quality. If your content is all over the place in terms of topic and quality the people won't bother checking back. The same goes for your social media and in person meetings!
Under Promise and Over Deliver
Another good way to become irresistible to your tribe is to 'under promise and over deliver'. What this means is that you give your customers more than they bargained for so that they feel almost as though you did them a favor. This creates the kind of positive experience that will bring them back and goes well beyond just fulfilling your contract.
One example could be to give a free gift away with an item you sell. Another might be to send a personal thank you note which will always impress.
Offer Incentives
Another easy way to increase your irresistibility is simply to reward people for being loyal. The most obvious way to do this is with some kind of reward program. Likewise, you can offer deals to your email subscribers or you can reward people for following you on social media. You can also offer affiliate payouts or credits! I often find that affiliate bonuses paid to clients who recommend a friend to me that decides to work with me is more beneficial than running expensive ads because it is so personal and more targeted!
Stand for Something
Finally and most importantly – to be REALLY IRRESITIBLE to your tribe you should stand for something. People love getting behind a movement and love buying products and reading blogs/social media as a statement or an expression of who they are. Try to actually represent something and make this a key part of your business model.
Authentic branding is all about knowing who you are and what your message is so you can serve your ideal clients.
Keep in mind that it doesn't happen overnight! It will take time to discover and implement!
If you'd like to speed up this process, it can be helpful to reach out to a coach! If this is something you're struggling with I'd love to connect with you more!