Three Key Steps To Making More Sales // STRATEGY, BRANDING, + WEB DESIGN BY XXOBRI.COM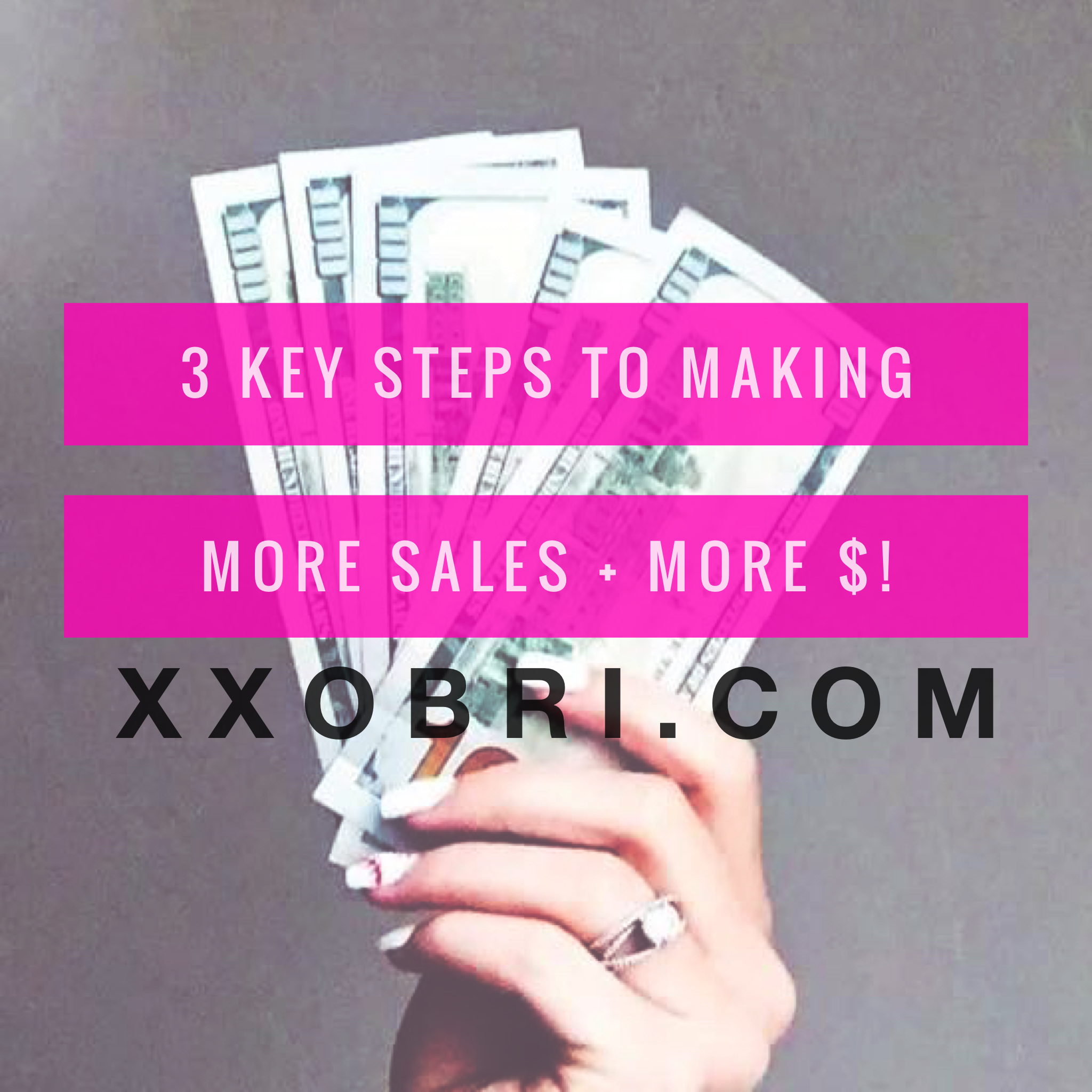 Good morning gorgeous 👯💕
One of the things client's ask me the most is how they can make more sales, and they are always a little surprised at my answer...
One of the easiest ways to make more sales is to ask for it!
Many business owners are hesitant to do it. They fear that if they ask for work they may sound unprofessional, needy, or like they're struggling. It's all in how you phrase it and the relationship that you've established with your clients.
On the other hand, many ask for it all the time-- which kills its effectiveness.
Find the middle ground that feels good to you and to your tribe!💗
So let's talk about the HOW!
➕Lay the Groundwork
Start by staying in touch with your clients. This can be through personal email messages, depending on the number of clients that you have and your relationship with them. It can also be through an autoresponder, blog, social media, private messages, etc. Ideally, you'll want to do a little on every one of these levels!
You can send/share content to:
💗Inform – talk about news, products, and current events in your niche industry
💗Educate – share material that helps them continue to solve a relevant problem
💗Entertain – send a funny video or comic – make sure it's relevant and appropriate
💗Check in – See how they're doing and ask how you can help
💗Engage- this is often the most overlooked, and under utilized! Send a nice compliment! Ask a question! Engage to build relationships. People want to buy from people they feel like are trustworthy & friends!
Regular follow up communication helps positIon you as a trust worthy, a friend, and reliable source of information. It also invokes the law of reciprocity – you helped them and now they'd like to help you.
➕Get them Accustomed to You Asking
You can engage your customers in a variety of ways and get them used to you asking for things. Position your asking as a way to help them. For example, send an occasional survey. It might ask:
What's your biggest problem you're facing right now?
Where do you want to be in 6 months, 3 years and so on?
How can I improve my business?
What are you looking for in a service provider?
Ask for feedback, specifically, how you can better serve your customers. By doing this you position yourself as a partner and someone who is invested in their success.
➕Ask for it!
Once you've laid the groundwork, asking for more business can be simple and straightforward. Find a phrase that works for you. For example, "Is there anything else I can help you out with?" or "I am taking on new clients and would love to work with you more. Is there anything that I can help you with?"💁🏻
💗Create a strategy. If you don't already have a customer list, create one from your existing email list. Start connecting with your customers on a regular basis and ask for their business.
You'll be surprised how effective this simple step can be.
Your current customers can also become your best customers with a little encouragement. A loyalty program may be an ideal next step!💳
What is your current strategy?
What changes can you make to make it more effective and efficient? 💁🏻