What Makes YOU Stand Out From "The Girl Next Door?'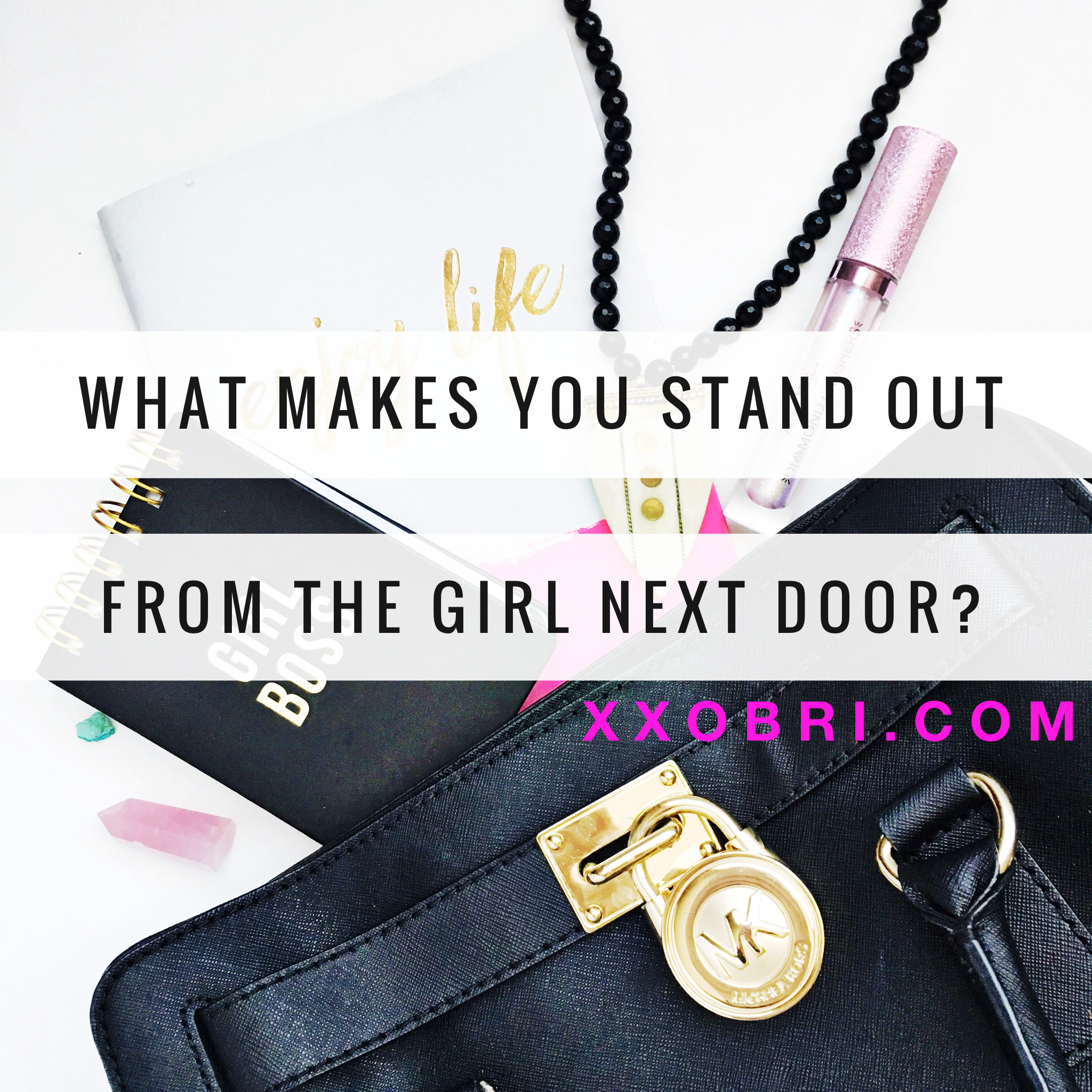 #REALTALK: When running an online business, you are competing with everyone else for a piece of the market! If you're in network marketing or direct sales you're not only competing with others in your industry AND your company!
So what makes YOU stand out from the girl next door? Why should someone do business with you over Amazon, or your fellow babes?
Here's the deal-- if you don't know the answers to this question --there's no way your potential tribe, customers, or clients will!
>>PAUSE, GO BACK AND READ THAT LAST SENTENCE AGAIN.
And by getting clear about what makes YOU stand out from the girl next door will eliminate the "competition" because no one can be YOU!
So here's 5 Ways You Can Stand Out From The "Girl Next Door"
1.Define Your Tribe
Whether you are marketing a product or a service, you must know whom your target audience is. Knowing your tribe is essential. Speaking to or selling to a large audience with no real target is a surefire way to spin out of control. Once you lose the reigns of who you are selling to, it is difficult to grab them back again.
2. Own + Leverage Your Brand/Vibe-
What we are talking about here is "the factor or consideration presented by a seller as the reason that one product or service is different from and better than that of the competition."
For example, Charles Revson, founder of Revlon, always used to say he sold hope, not makeup. Some airlines sell friendly service, while others sell on-time service. Neiman Marcus sells luxury, while Wal-Mart sells bargains. https://www.entrepreneur.com/encyclopedia/unique-selling-proposition-usp
Once you have honed in on your tribe, you need to then start focusing on your brand vibe.
For example, if you are targeting gardeners, there are thousands upon thousands of products, services, or websites on this topic. However, if you choose a sub-niche such as roof top gardeners, then you have a chance to narrow your niche and target a specific audience.
3.It All Starts With Knowing Yourself + Your Product
Do not attempt to sell anything or write about anything unless you know yourself well enough to know that you are passionate about it. Once you are passionate about what you are doing whether it is writing sales copy or selling a product, make sure that you know your product as well. Do your research and prepare any answers to all questions you think will come up when marketing. Once you hone in on these two things, you can then begin to promote the value that you offer.
4. Set Those Goals
Everyone knows the importance of setting goals; however, if you set goals and do not write them down or put them in an editorial calendar or however it is you like to organize, all is lost.
Setting goals and putting them down in black and white is crucial to the success of your business.
5. Finish What You Start and Stick with It
Once you have chosen your tribe + vibe, found something you are passionate about and fully explored your product/service, it is time to move on to the next step. After setting those goals, hold yourself accountable to stay organized, stay committed, and stay on track. No matter what it looks like in the beginning or even as a seasoned pro, recognize there will be ups and downs and you need to learn from both and just go with the flow. The most important thing is to stick with it!
I want to know-- what is it that makes YOU stand out from "the girl next door?" Tell us in the comments!