The 4 Things you need to do to kill overwhelm + fall back in love with your biz!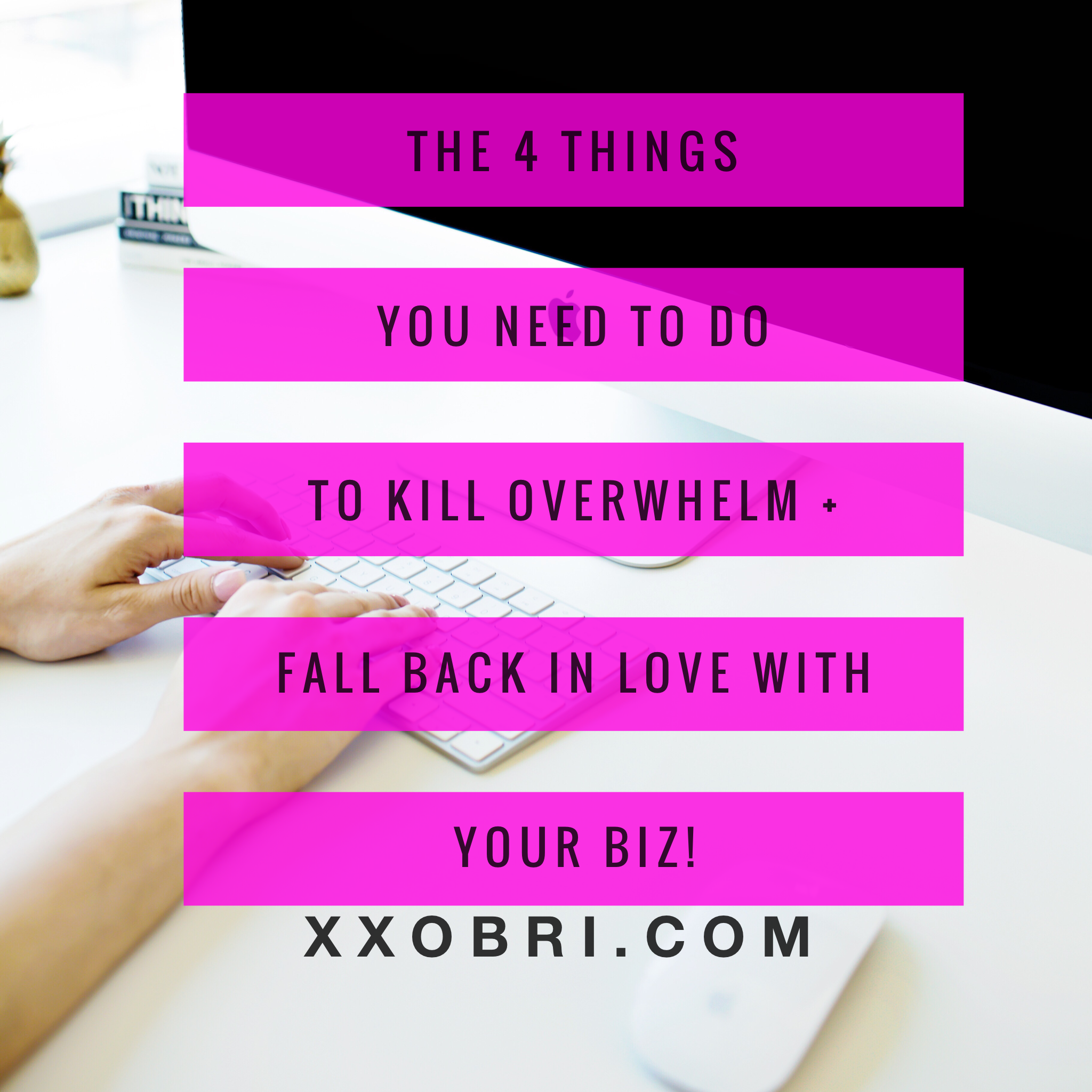 Ever have days that you feel so frustrated, overwhelmed, and even a little tempted to throw in the towel?
What about days that work just seems to flow and not only do you not mind working long hours on a project, but you're even excited about it! Often those are also the things that end up making you the most money, and the reason is simple--The passion you have for the work you do shines through!
The coolest thing about that is that now you know, you can be more intentional and make your business more profitable AND a lot more fun at the same time! The magic happens when you tap into your passion and work on what you love to do!
Here's a few ways you can take it even a step further!
Find What You Really Love
Ask yourself what do you REALLY love to do? What do people tend to come to you for? Where are you the most excited to help?
You'll be creating a lot of content and talking a lot about whatever niche you chose to be in. While it is important that your niche is profitable. It's just as, if not even more important that you enjoy what you do. After all, you'll be spending a lot of time working on your business.
Your enthusiasm and love for the market will shine through as you write and talk about it. It will help establish you as a knowledgeable and creditable source of information. That will make gaining the trust of your potential customers much easier.
Find A Tribe You Love & Loves You Back! 💖👯
Start by finding a tribe that you enjoy working with.
You'll be spending a lot of time interacting with, helping, educating and entertaining your customer base, you may want to pay attention to the type of people you attract.
It's helpful to get a clear picture of who your ideal customer is. Be as specific as possible when it comes to gender, age, how well off they are, if they are married and have kids etc.
Once you know what your ideal customer or client looks like, it will be a lot easier to find places where you can find them. Start your marketing there and build your ideal target audience.
Focus on The Tasks Your Favorite Strengths!
Online businesses have a lot of different parts. Some you'll enjoy working on a lot more than others. If product creation is what you love, focus on that. If you prefer talking to writing, start an audio or video podcast instead of committing to writing daily blog posts.
Focus on what you have fun doing, and what you're really good at! Yes, there will be times when you have to do some stuff that isn't as fun (taxes anyone?), but make sure you have some enjoyable work on your plate at all times. It'll keep you going and makes the day go by much faster.
Outsource The Rest
Start to outsource anything you absolutely hate doing as quickly as possible. Then add to the list as you can afford to until you're only left with work you enjoy.
With all the things you don't love to do off your plate, it's amazing not only how much fun running your online business will be but also how much faster you will grow!
And heck-- who wouldn't want a more profitable and enjoyable business?!