How to make 67% more money...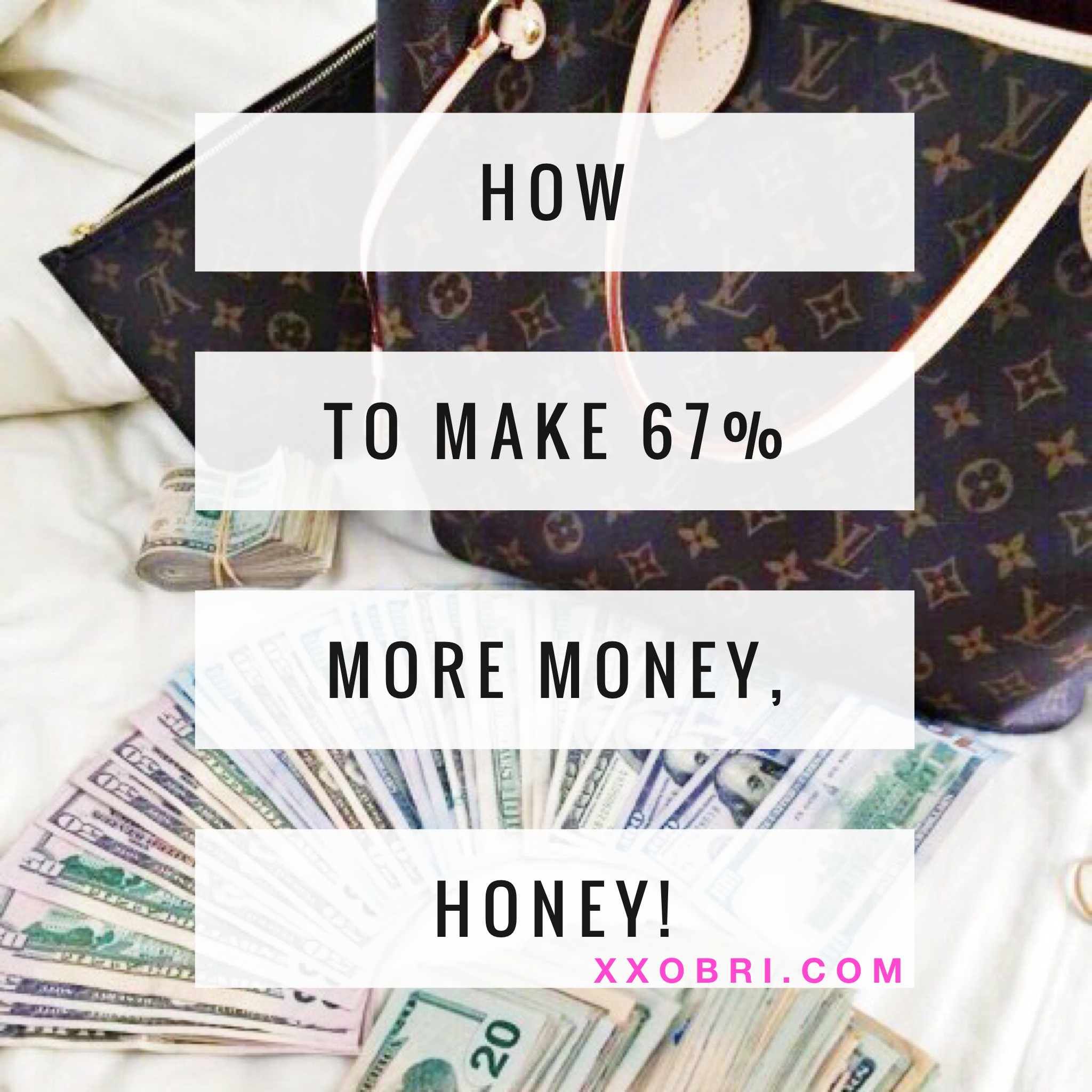 Gooood morning my lovely babes! Today I'm sharing a little something that I frequently share with my clients! And with all of the hustle + bustle that's constantly going on in the world around us, I thought we could all use the reminder! 💗
I'm going to let you in on a secret--Finding new customers, marketing to them, and getting them to spend money with you for the first time is a lot of hard work. Getting them to then buy something else from you is MUCH easier.
Before a new babe is ready to pull out her Gucci bag and spend her hard-earned money with you, she has to know, like and trust you!
To build that kind of trust and show that you are a person that's likeable + knows what they are talking about, takes time and effort! You have to go out and find these people, get in front of them, share content, get them on a list, and then build that relationship so that you get to a point where they turn into paying customers.
The big mistake most of us sometimes make is that stopping there and then spend all our time and efforts to find new people. Then we work hard to convert those new people into paying customers. While that's great, and certainly something all of us need to do, there is a second part to this process and it's where most of the money for your business is to be made, and where systems can be in place to do the work for you!
There are a couple of things that happen when someone turns into a paying customer.
The first thing is that they know they can trust you. They know you do good work, and they are comfortable spending money with you. Hopefully your product is exactly what they needed and it's helping them reach their next goal, or entertaining them.
They are then highly likely to buy from you again. In fact, they are 47% percent more likey. [Seriously! Go see for yourself!] And not only that, they are more likely to spend more money too! 67% perfect more!! [I wouldn't joke about these things!]
Let's use Kylie Jenner's cosmetics line as an example here. If you love Kylie, and especially if you have used and loved her lip kits before, buying her newest kit is a no-brainer. You don't even need to read the description. You buy it and love it. (You maybe even waited on a waiting list or in line for it!) The same happens with your existing customers.
You also know a lot about a person once they buy a product from you. You know what they bought and what they like or need. Lets use my biz as an example! Let's say I create and sell course about planning your marketing and profits and setting & crushing your goals in 2017! I know my customers are interested in that topic. For my follow up products I could come up with courses on things like creating marketing plans for your goals,collaborating with other bossbabes to fill your calendar, monetizing your website, getting traffic to your site etc. Since I know my customers are very interested in planning an amazing 2017, chances are that they also want to learn more about those steps once the plans are made & related topics.
And this is where you really get to leverage your quality>quantity!
So let's talk about it-- what are some brands and/or products you always buy their new line of products? And why? Have you ever thought about this before?
What type of follow up do you do? Do you create a follow up experience? How can you?
Remember, your customers are your money source! And once they've bought from you they are MUCH more valuable than the new faces! Are you treating them that way?💗