My Favorite Tips To Working Smarter, Not Harder Off The Clock To Live Your Best Life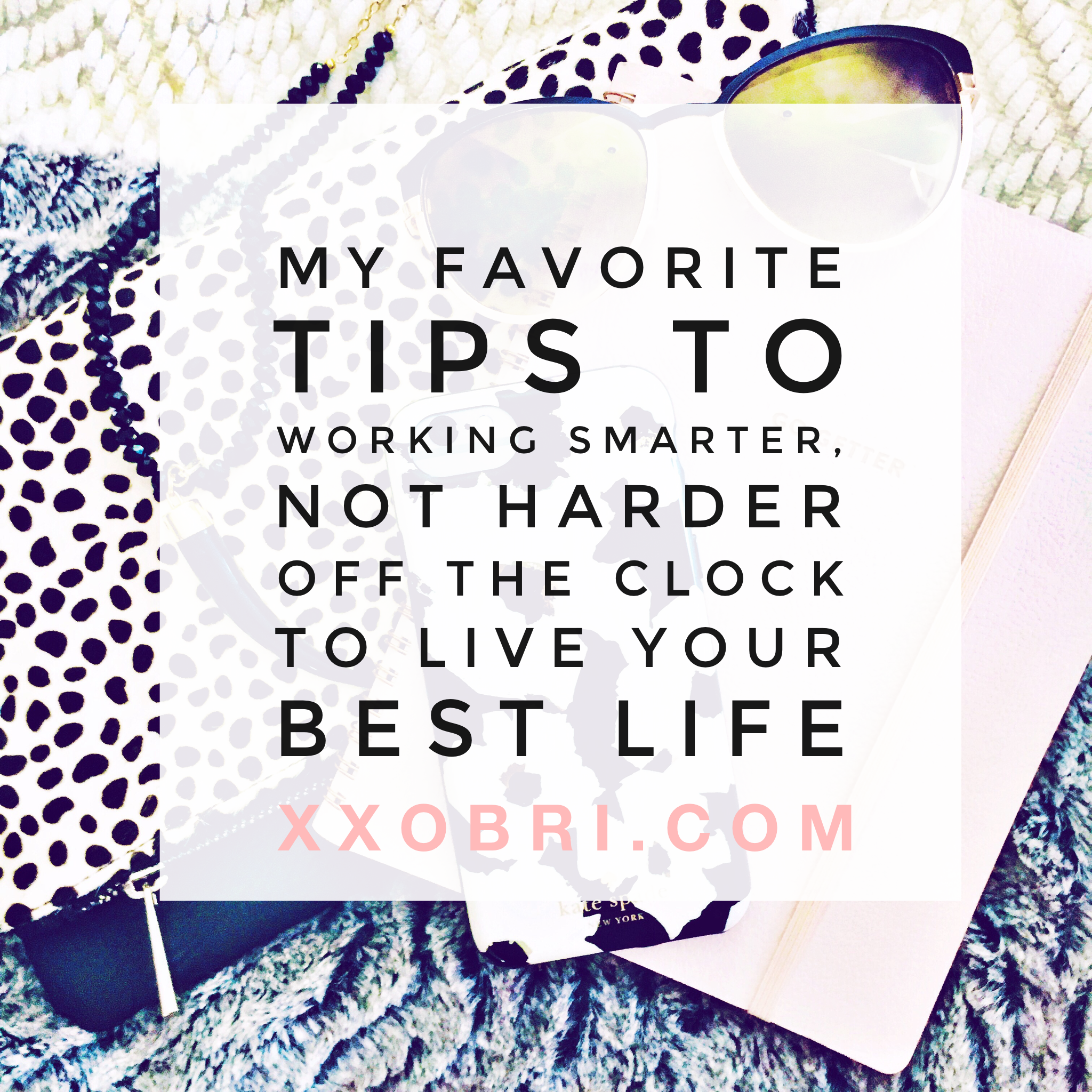 The last few week weeks I've been sharing some tips on how to really work smarter not harder in your biz! This week I wanted to share some ways you can leverage your off the clock time to really live your best life!
Starting with what you should do at the work day/week:
➕ Put away your work stuff!
You might be using it again as soon as you start the next day, but that is no excuse for leaving it lying about. Putting away your stuff not only keeps things organized, it also helps you be able to get out of "work mode" and be present in your life, AND you'll start the next day feeling like you've got your 'ish together and are ready to #slay!
➕ Review your day.
Take some time to look over what all you accomplished for the day, as well as what you maybe didn't get checked off the todo list. Also take a few minutes to just process the day! If there were frustrating points think about how you could avoid similar things in the future, for instance maybe there is a more efficient method! You will never know if there is a better way of doing things unless you start looking for one. If there happens to be one, throw out your old habit and adapt a better strategy. Do not be afraid to try new things especially if it might bring better results or optimize your work process. You will thank (me and) yourself later. 😉
Also look at the highlights of the day! What worked well? Make note so you can do it again! 🔥
➕ Shut down your computer. 🖥
Most people simply put their computers into sleep mode or let them run overnight with the monitor turned off. Putting a computer into sleep or hibernate mode does not allow it to flush its memory completely, which means that you don't get off to a fresh start when you turn it on the next day. A full shutdown means that you can start off from the best possible state because your computer was able to clean itself with the shutdown! (We all need a break! 😂)
➕ If you need to leave your computer running, turn off the monitor and use an automatic shutdown application.
Sometimes we can't wait for our computers to complete certain tasks, which is why we sometimes need to leave them running after hours. If you want to do so, make sure you turn off the monitor and set an automatic shutdown. Give your shutdown a little leeway in case the task takes a little longer than expected.
➕ Do a 10 minute pick up. ⏱
When you're done for the day, do a quick power pick up! Find your favorite upbeat playlist, crank it and get busy! Place papers in folders or envelopes. Pick up bits of trash and throw them into the waste bin. Wash your coffee mug. Put things where they go so you can enjoy your living and work space and come in the next day without extra clutter in your work and/or living areas!
➕Pat yourself on the back. 🙌
ALWAYS take a minute to give yourself a little "hell yeah gorgoeus!" Seriously! Why not pat yourself on the back and congratulate yourself for finishing everything? You slayed your day, (and if you're following these tips even got everything picked up and back in it's place for a fresh start tomorrow)! And most importantly -- you SURVIVED! You deserve to clap for your damn self! 👏
This kind of self-encouragement is great for your self-confidence as well as your overall well-being. End your day the same way you started it – in a good mood.🔥
So once you've ended the work day, you can still find ways to work smarter not harder to get the most out of your LIFE! 🙌 (Because that's what we all do this #hustle thing for right?! 💁🏻)
➕ Unwind after work! 💅🏻
Everyone needs to have an outlet!
Chose a form of self care or a hobby! Bonus points if your hobby produces some form of product, whether physical or digital, you could also sell it for income.💰
➕ Get out of bed before the rest of the world. (Yep, even on the weekends!)☀️
Setting your alarm clock at least an hour gives you the most amazing jump start on the day! If you haven't yet-- read the Miracle Morning!
➕ Clean out your makeup stash.💄
Seriously. That stuff expires girl.
➕ Wash your makeup brushes.
Again, seriously.🤢
➕ Make time to exercise.💪🏼
Regular exercise not only keeps your body fir but your mind sharp as well. You already spend too many hours of your life sitting on a chair. Break this routine on the weekends and start getting up more. No need to build your body here. Just spend one to hours a day getting your heart pumping and your blood flowing. Exercising on the weekend also helps break the monotony of work and helps get rid of the Monday blues when it is time to work again.
➕ Get some well-deserved R & R.🛋
There is a reason why they say "work hard, play harder." After a rough week at work, you (like your computer) need some real down time. Find time to do something you want like watching the football game or firing up the barbecue. Anything that helps clear your mind for the week ahead is a great thing to do. The main point here is to relax and free yourself from stress and you are going to need it. So start the bath, grab a bottle of rosè, throw on a face mask, and enjoy!
➕ Get enough sleep.😴
Lack of sleep will most surely decrease your attention span and your ability to concentrate. So much for getting that to do list done then. So instead of being up all night, do not go past your bed time. It is a bit jr high but it does help in bringing your brain to work mode the following day. This way, you are not a slave to the coffee machine anymore. Keep your mind fresh and up to the task and you will feel better and it'll show in your work and results!
Which of these tips do you currently do? 🤷🏻‍♀️Which do you need to start implementing? 💁🏻💖