The one thing many babes don't have, but NEED in their biz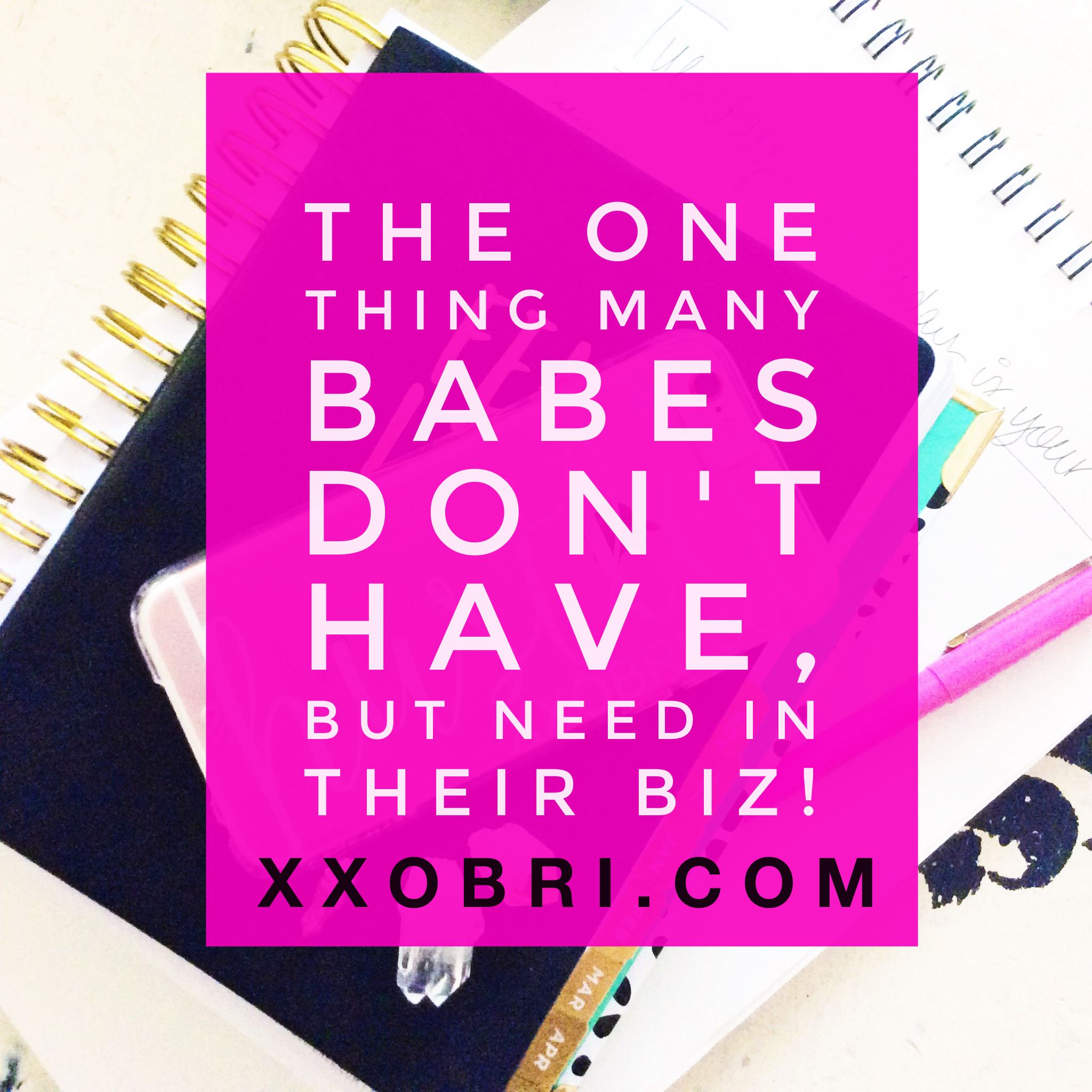 If you listen to pretty much any successful online #bizbabe these days you hear a lot of buzz about "lists"-- that you need one--like yesterday.
One thing that has surprised me lately is that when talking about it with clients and other #bizbabes, I often find that they are aren't really sure WHY!
So I wanted to share WHY YOU NEED AN EMAIL LIST:
Email marketing allows you to reach your audience in an incredibly direct way. Unlike other forms of marketing, you'll actually be able to reach your audience directly in their inboxes without having to go through any third party. That means that you're not reliant on a platform like Facebook or Twitter, or at the mercy of potential changes to policies that could render your messages unheard. It wasn't that long ago that Facebook made the decision to change its system so that only a small percentage of posts from pages got through to followers. And let's just #keepitreal, how many of you have ever been in the dreaded "Facebook jail"?! What if you were running a big sale or promotion and couldn't access your account or followers? Not having a list + depending on Facebook alone is a dangerous game.
With email, your messages are going directly to the users. That means that nothing can prevent you from reaching them and you know that 100% of everything you send is going to reach the recipient.
It means that you don't lose your long list of subscribers if Facebook decides to inexplicably delete your account (this happens – way more than you want to think!) or if they decide to delete their accounts.
Not just that-- let's talk about the cold hard facts!
Here are a few stats which perfectly illustrate just how #gamechanging email marketing really is and how it can take your biz to the #nextlevel...
For example, did you know ...
+Email marketing has a ROI of 4,300%
+91% of consumers check email daily (most people check it much more!)
+When surveyed, companies say that email marketing is more profitable than: PPC, content marketing, display advertising, mobile ads, social media marketing, direct marketing, affiliate marketing…
+66% of US consumers aged over 15 have made a purchase as a direct result of an email campaign
+1/3rd of consumers say that they open their emails on the basis of the subject line alone
+People who have done a "transaction" (think value for value) with you are 47% more likely to buy from you again than someone who has not! [Not only that, but they are also statistically proven to spend about 67% more!)
So, what does all this tell us?
Why are these stats the way they are?
Firstly, let's consider the ROI. [If you're not familiar with the term ROI, it stands for Return On Investment --the amount of money you make versus the amount of money you spent in order to make it!]
The reason that ROI is so high for email marketing is actually because the cost is so low. When it comes to email marketing, you only need to pay for your email marketing service. [Or if you are just starting out, you can often get this for free! I recommend Mailchimp!]
And just guess how much writing an email costs? 😉 And it barely takes any time either (remember: time is money, honey!)
Are you starting to see how you can work #smarternotharder using quick + cost effective email marketing?
Another stat that's interesting is the fact that 91% of consumers check their email every single day. That's a huge statistic but in reality it's probably pretty conservative. The reality is that most of us check our phones not only every single day but countless times throughout the day.
The reason for this is that we get a notification each time we get a new email. There is no way for us to miss an email, which stands in stark contrast to a Facebook post or a Twitter Tweet which is very easy to miss.
Think about the Facebook pages that you have Liked. Can you honestly say that you get 100% of the messages that any of them put out? [If you have a Facebook Business page of your own, what about engagement and views like on un-boosted posts? Sidenote: If you don't yet have a Facebook Business Page, we need to talk-- but I'll save that for another day!😂]
The answer for most of us is 'no' and the obvious reason for that is that we'll only check Facebook every now and then and even then, we'll likely only see a small percentage of what's on offer because that's what will make it to our homefeed. The only way we would stand a chance of seeing 100% of the content from a given page is if we were to manually navigate to that Facebook page every single day and scroll down through the posts.
But seriously-- girl ain't nobody got time for that!
With email on the other hand, you not only check your inbox multiple times a day anyway, but you also get alerted each time a new message comes through.
Also, when someone gives you their email address in exchange for something of perceived equal or greater value they are 47% more likely to buy from you again than someone that's never purchased from you before! (And they will spend about 67% more money too!) *Micdrop*🎤
[This is where we pause for you to re-read that last paragraph and let it sink in. Then make a little side note to make sure you're working your follow up activity accordingly!]
Not only that-- but just by getting someone in the habit of doing what you ask them to-- such as leaving a comment, liking something, giving you their email ... increases your credibility and makes them much more likely to purchase when you make that suggestion!
So, are you ready to get busy building + leveraging that list?!
Check back next week where I'll be sharing more about what to do once you've started growing your list! 💖 AND, while you're here-- sign up for my list to be the first to know about everything coming to xxobri.com!