What Every #bizbabe Should Know About Branding // STRATEGY, BRANDING, + WEB DESIGN BY XXOBRI.COM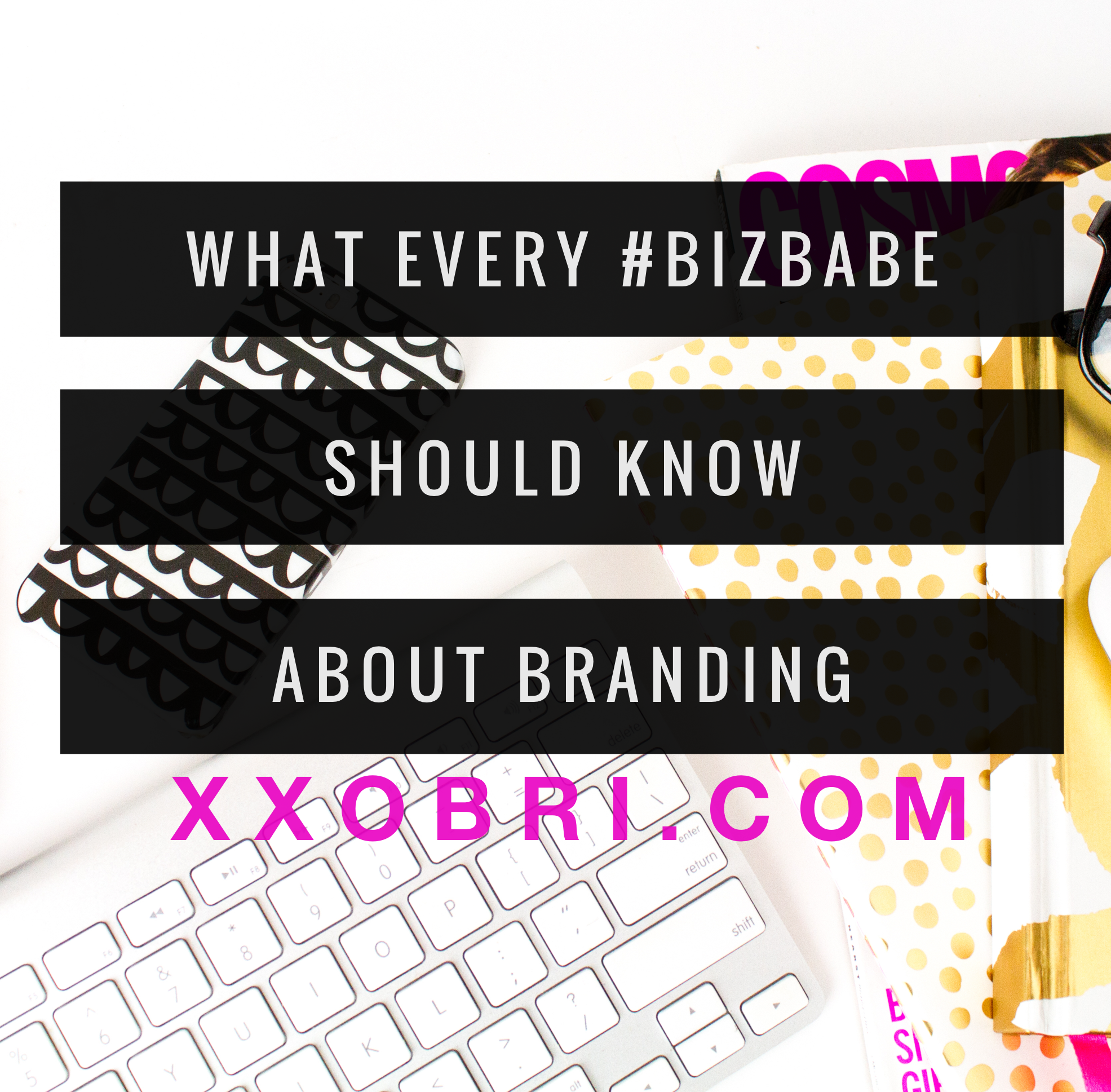 Branding can be a confusing topic for some #bizbabes. You may think that personal branding isn't useful and adds no value to your business-- But that's not true.
You can harness the power of branding to make more money and to make the world a better place at the same time!
Think of your favorite brands. They all stand out for one reason or another.
>>For example, Apple is known for its sleek product designs and cutting-edge technology. Coca-Cola is branded as a fun, enjoyable beverage.
Just like businesses can become known for their brand, so can #bizbabes + small business owners. Developing your personal brand is a smart way to position yourself and stand out in the mind of your clients.
Branding Makes You Memorable
But first, you'll need to set aside time and energy to reflect on who you want to be and what you want to be known for. Doing this will save you energy in the long run since you'll be able to focus on your strengths and minimize your weaknesses.
Another benefit of developing your personal brand it that it become easier to present yourself consistently, no matter where you go. Imagine being able to intentionally place pictures in potential clients' minds so that they will remember you.
Branding Makes You An Authority
Not only will potential clients remember you better, it'll also be easier for them to tell others about you. Then you'll be viewed as an authority in your field, all because you took the time to work on your branding.
But this is only the beginning. As you become more well-known, your ideal clients will become more attracted to you. You won't have to spend as much time marketing because your customers will naturally flock to you.
Branding Makes You More Money
As a result of increasing demand for your services, you'll also be able to raise your rates. Think of doing the same work you're already doing but being able to double your rates. With smart branding, this is a real possibility.
Of course, higher rates aren't the only reason to build your personal brand. You can also expect to get more attention from other solopreneurs and business owners that want to offer you high value partnerships. Imagine getting to work on projects that you love with other business owners that you've admired for years.
And while we're on the topic, let's talk about how you can take your branding to the next level!
Be Intentional
The truth is that personal branding is all about using the impact you have intentionally. When you know the type of image that you'd like to project, this knowledge will help you guide your business decisions. Instead of taking on every project that comes your way, you'll stop and examine which projects are in line with who you are and what you'd like to offer. Personal branding helps you simplify decision making.
Leverage Branding To Connect You and Your Customer
You have to be willing to share part of your personal life to allow your ideal client to resonate with your business. For example, if you sell minivans to moms, then sharing the fact that you have kids of your own can be a great way to connect with your potential customers. You don't have to go into excessive detail, but you could say something like, "I have three kids, too, and the last thing I want to worry about on our summer road trip is if my vehicle is going to breakdown."
By doing this, you've forged a connection with your potential customer and made her more likely to buy from you. Why? Because she thinks that you understand her situation and can relate.
Be Positive
Keep in mind that personal branding is about sharing, but you want most of what you're sharing to be positive. Negativity will make it harder to convince potential customers to work with you. That's why you want to stay upbeat with what you do share. For example, you might say, "Last year, I was driving the family minivan when the kids and were in a terrible accident. I was so worried about them but the safety features on this van meant that my kids only had minor injuries." In this case, you've shared a personal story but you've kept it positive by ending on a good note.
Keep in mind that your personal brand is going to evolve and grow. As you learn more about your audience and what they want, you'll want to re-examine your personal brand and make sure it's still serving your business well.
All of these things and more can happen when you're willing to stand up and own your brand. You were made to shine, so embrace your irresistible, authentic brand!
Are you ready to start including more of your personality in your brand?
Are you tired of playing small with your brand?
Join Me + My Gorgeous #BizBestie Kaela McGuire Today at 4 CST for our SHINE SO BRIGHT webinar!