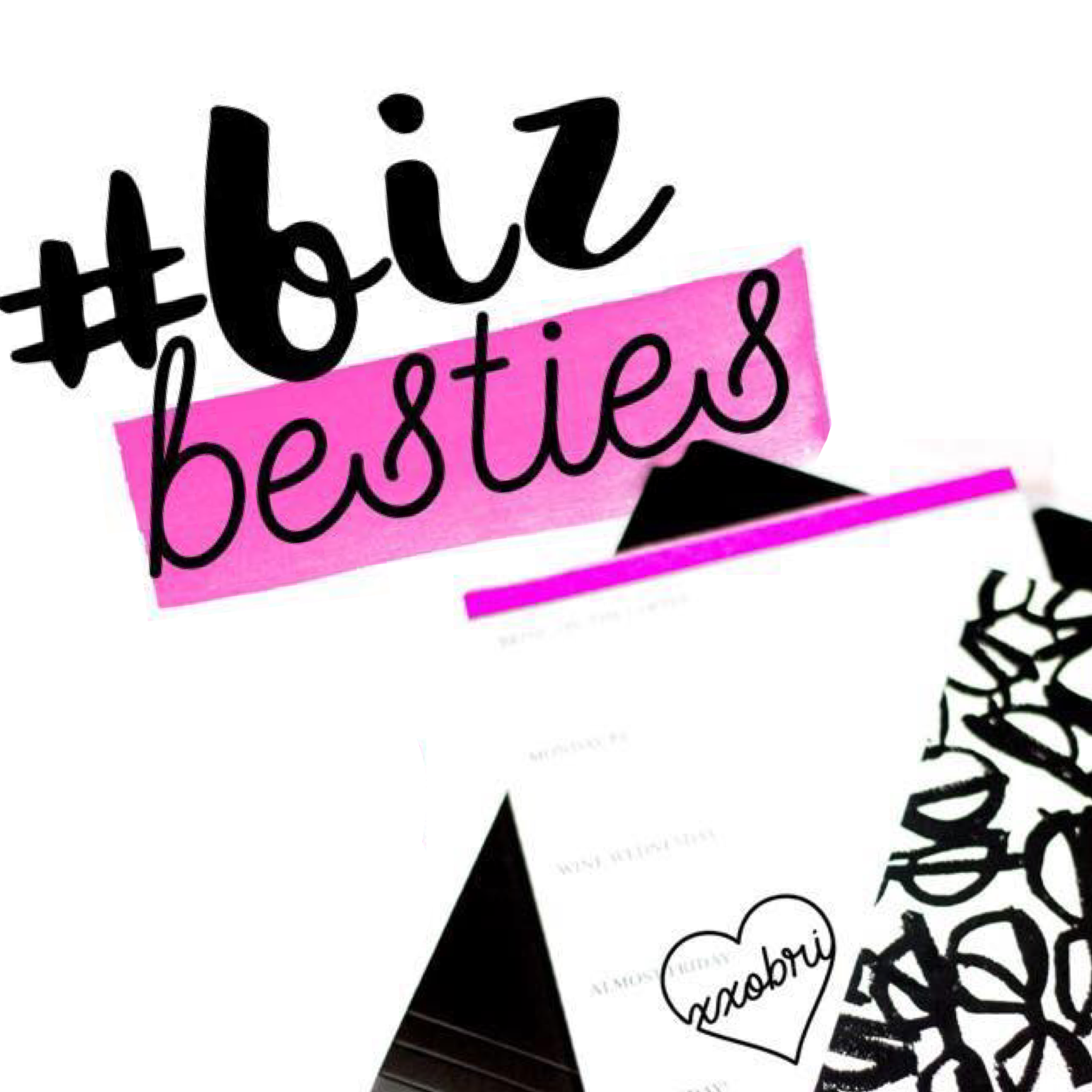 #BIZBESTIES
LET ME GUESS-- YOU'RE NOT QUITE WHERE YOU WANT TO BE IN YOUR BUSINESS OR YOUR LIFE.
You have BIG goals & you're hustling toward them, BUT It feels like every step is a struggle. You're just not seeing the results you want. You don't feel motivated. You feel stuck, overwhelmed and lost about what to do.
I NEED YOU TO KNOW--you're not alone. SO many babes experience feelings of being "stuck".
And I'm willing to bet when you started out, you probably had massive energy but overtime, that energy fizzled out. Weeks and maybe even months have passed and you're not any closer to achieving your goals.
I'M GOING TO LET YOU IN ON ONE OF MY FAVORITE LITTLE "SUCCESS HACKS"--
biz besties💖👯
Having a BIZ BESTIE is an amazing way to get your ass back into gear and start moving toward your goals. It's easy to set a goal and make no progress when no one is looking over your shoulder. But when you have someone holding you accountable, slacking off is much harder! #Letskeepitreal--We tend to work harder to honor commitments we made to other people than we do the commitments we make to ourselves.
For example, look at Weight Watchers. It's a weight loss program with accountability built right in. From the weigh ins to the weekly meetings, members are accountable to each other. The meetings are filled with people that support each other in the goal to better their health and fitness.
BIZBESTIES CAN HELP YOU SET BETTER GOALS
For example, you could set a goal to go back to school for your degree, start a side business, and spend more time with loved ones. An accountability partner would gently point out that those are good goals but will be difficult to achieve at the same time.
BIZBESTIES CAN HELP YOU BREAKDOWN YOUR GOALS
It's important to set ambitious goals, ones that force you out of your comfort zone and make you grow. But I'm order to achieve them, ambitious goals have to be broken down into smaller steps. That's where your BIZBESTIE comes in. She can help you focus on taking one step at a time until you reach your big goals.
BIZBESTIES CAN HELP YOU DEAL WITH ROADBLOCKS
Everyone encounters roadblocks at some point when they go after their goals. But your BIZBESTIE can help you brainstorm ways to get around your obstacles and find success. For example, if your goal is to launch an online business but the tech stuff has you feeling confused, then your BIZBESTIE could offer both support and fresh solutions.
With the support of a BIZBESTIE, you'll be able to escape the rut you're in. You'll also feel more energized and be able to tackle your goals more fierce than ever before!
sale
scroll down for weekly payment options!
This is for:
Babes who are tired of playing small

Ready to actually make their goals happen

Frustrated with doing all the things and struggling to get next level results

Need step by step guidance

Craving accountability + support

Ready to crush the rest of 2019!
WHAT YA GET:
Your choice of 1or 2 1:1 coaching calls with me!($150 -$300 value)

Private intimate Facebook group work your new Bizbesties where all the action will happen! ($200)

Every printable + tool you need to execute your goals ($99 value)

BizBesties Welcome Kit- ($99 value)

High vibe daily audio

Affirmations + journaling prompts

Office organizing guide to get ready to SLAY!

Slay 19 printable guide + forms to make sure you crush the rest of 2019!

Access to me via messaging for extra support ($99 value)

Opportunity to be featured on #Trendsetters blog & podcast!
WE WILL:
Find + leverage your $ making tasks

Make amazing new bizbesties

Learn what & how to outsource

Refresh social media profiles to attract targeted leads

Create your own library resource of offers

Learn how to leverage existing + discover some that you never even knew ya had!!!

Turn your email into a lead generator

Showcase top offers irresistibly

Share your story to attract your ideal tribe

Collab with each other and the #trendsetters girlgang

Grow your email list with hot leads
HOW IT GOES DOWN:
Sign Up!!! choose from 1 or 2 calls and your payment option!

Check your email and Download your BizBesties kit!

Schedule your first call

Access the private group

Download tools
and-
Every week we will break down your weekly strategy + map out the 3 main tasks to make it happen!

There will also be dail money maker + goal crushing tasks

Weekly live Q & A

Plan + schedule killer collabs (trendsetters!)

And of course ALL THE GIRLGANG VIBES with your new Bizbesties!